Government Tournament May 2021
Hello Police Officers, Fire Fighters and other Government staff!
It is with great pleasure that we are now able to send you the information for the 10th Mallorca football tournament.
The Mallorca tournament is being organised by the experienced Mallorca Football Events organization with the full support of the Calvia Council & the Mallorca Tourist Board. It is a great honour to invite your football team to participate in the 2021 Mallorca tournament.
The Mallorca tournament will take place from Thursday 6th of May up to and including Monday the 10th of May 2021 in the popular and friendly resort of Santa Ponsa.
It is possible to book extra days before and after the tournament so please just advise us as soon as you have your travel dates if you wish to extend your stay.
Playing football in Mallorca can be a lot of fun, this cosmopolitan island has so much to oer and this is your opportunity to combine a holiday with a fun and competitive 5 a side football event. With a fantastic selection of hotels & apartments, nearby sporting facilities you and your team will spend 4 nights/5 days having the time of your lives.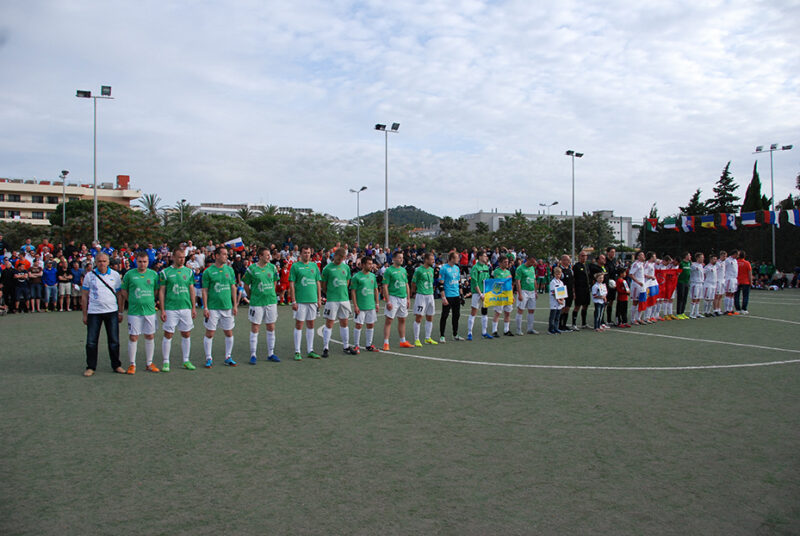 Who can participate?
Police Officers, Fire fighters, Custom Officers, Military Personal, Tax Officers, Personnel of the Ministry of Interior, state, provincial or municipal employees, staff from the various ministries, and special invitations by the organization.
The last tournament was a great success, with over 2,200 enthusiastic footballers from more than 40 countries participating. The event was divided into three categories, 102 teams participated.
Categories
The following categories are available in all 5 a side tournaments:
- Men's tournaments
- Women's tournaments
- Men's 35+ tournaments
- Men's 45+ tournaments
Ready? Let's go!
Find the official invitation and registration form in your language.