Car & boat rental
Mallorca Football Tournaments rent a car service
(Special rates for our participant)

(Avoid the regular problems with expensive car rental, long queues at the airport, extra costs for insurance, etc.)

As an extra service for our participants of the Mallorca football tournament we have come to an agreement with Rosslind Car & boat rental in Santa Ponca.

Reasons to rent your car from Rosslind car rental:
Rosslind has good cars and boats for an economic price.
The participants of the Mallorca football tournament get an extra 5% discount on the regular prices mentioned on the website www.rosslind.com
Ask for the discount/promotion code and send an e-mail to info@rosslind.com Rosslind gives you a very good personal service. You can pick up your car near your hotel or apartment in Santa Ponca or if you wish at your arrival in the airport area.
No stress at all with your rental car when you arrive in Mallorca. Rosslind will take care of all.

No extra costs like most car rental companies count for extra insurance, 2nd driver, tyres and mirror insurance etc.
No hidden costs. The price is the price.

Very simple pick up and drop off procedure:

You pick up the car.
Bring the car back as you have received.
No discussions at the office.

The Rosslind office is very near the Santa Ponca sports centre and the tournament hotels and apartments.
You can rent the car without the use of a credit card.
Rosslind is a very flexible company. They will try to help you were they can and offer a fantastic service. They will be present during the tournament!
Mallorca football tournaments cooperates already for many years with this company.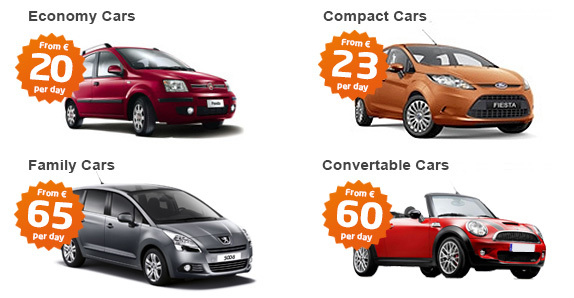 Mallorca Football Tournaments boat service
Rent a boat ( www.rentaboatcalvia.com)
• Options for 2 types of boats
Boat 1 : Searay 280 bowrider, max 8 persons
Option 1 : Private (Full day): Price: 500€. (skipper, cleaning,aperitif incl.)
Private (Half day): Price: 400€. (skipper ,cleaning, aperitif incl)
Option 2: Shared (Full day): Price: 100€ p/pers* (skipper, cleaning aperitif ,fuel incl.)
Shared (Half day): Price: 80€ p/pers* (skipper, cleaning, aperitif ,fuel incl.)
Boat 2 : Cranchi 42FT ,max 10 person
Option 1 : Private (Full day): Price: 900€ (skipper, cleaning,aperitif incl.)
Private (Half day): Price: 700€ (skipper ,cleaning, aperitif incl.)
Option 2: Shared (Full day): Price: 120€ p/pers * (skipper, cleaning, aperitif ,fuel incl.)
Shared (Half day): Price: 100€ p/pers* (skipper, cleaning, aperitif ,fuel incl.)
(* The max people for SHARED are 6 persons with Searay and 8 persons with Cranchi.)